About Us
AL FUTTAIM MOTORS

The exclusive distributors of Toyota, Lexus, Hino Trucks and Toyota Material Handling in the UAE, holds the prestigious position of the largest distributor of automotive products in the country and leads the rapid development of automobile business. Today, Al-Futtaim Motors enjoys undisputed leadership in the UAE in terms of the largest number of vehicles on the road.
Al-Futtaim Motors is also the largest distributor of automobiles and automotive products in the Emirates, with fully computerized showrooms plus fully equipped service workshops and parts facilities in every emirate. An aggressive Customer Satisfaction program, designed to enhance service levels right across the company, from showroom to workshop, continues to foster customer relationships. Our ultimate goal is to consolidate our position as the number one distributor in the UAE by achieving new standards in customer satisfaction
OUR VISION
To provide an outstanding and genuine experience for every customer across the automotive value chain.
OUR MISSION
To become the leader in tailor-made mobility solutions to customers through world class omni-channel experiences.
THREE GUIDING PRINCIPLES
1. Be a benchmark for our principals.
2. Foster collaborative working delivering tangible value.
3. Have an enquiring mindset and encourage innovation.
HINO MOTORS LIMITED

HINO MOTORS LIMITED (HML) which is now a subsidiary of TOYOTA MOTOR CORPORATION was founded in 1910 and established as a separate company in 1942. Hino has a rich history in the automotive industry and is the largest manufacturer of trucks and buses in Japan.
Under the HINO brand, HML represents the Toyota Group in the global market for trucks and buses. We have a large market share in other Asian markets and in Australia, too. Global operations also serve a growing range of customers in North America and in other regions.
Hino also produces Toyota badged vehicles on commission, including the popular sport utility vehicle, the Land Cruiser Prado, and the FJ Cruiser, and supplies Toyota with dyna two-ton trucks and with Toyoace two-ton commercial vehicles on an original equipment manufacturing basis. Using the Toyota Production System to achieve continuing gains in productivity and in quality throughout its operations, Hino has adapted that system to its model line to offer customers the best possible products at competitive prices.
HML operations are growing globally in step with the globalization of the Toyota Group. One of the largest Hino plants outside Japan is a Thai manufacturing operation established in 1964. It produces axle assemblies for Toyota's IMV model line, which includes pickup trucks and utility vehicles, as well as producing trucks under the HINO brand. Similarly, Hino manufactures parts in the United States for installation in Toyota vehicles produced in North America.
Worldwide sales of HINO brand trucks and buses total about 100,000 vehicles a year. Hino and its global distributors are working to assert an even stronger presence in the global marketplace.
Hino owners around the world cite service as a Hino hallmark. Hino strives in design and development to make vehicles as easy as possible for users and dealers to service, complemented by conscientious support through extensive service networks, which ensures reliable inspections, maintenance, and repairs for all Hino customers.
HAMURA PLANT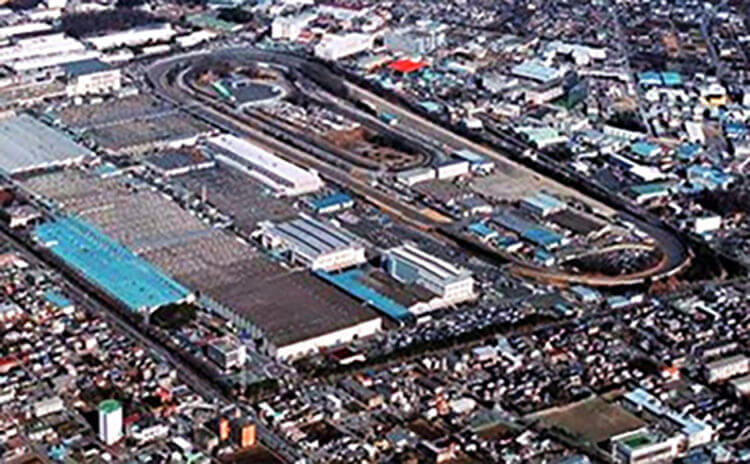 Hamura Plant in Midorigaoka, Hamura-shi, Tokyo, is one of the main factories of Hino Motors Ltd. in Japan that has been producing tens of thousands of vehicles and parts. The Hamura Plant, which was built on an area of 750,000 m2, employs around 4,400 employees. Every day, they assemble Hino 300 Series light trucks, axles (axles) for heavy-duty trucks, and original Toyota vehicle parts.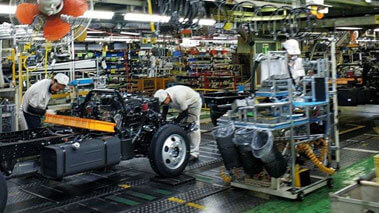 The Hamura Plant, which has been operating since 1963, in addition to producing Hino and Toyota brand vehicles, also spare parts for the two brands, both for the Japanese and overseas domestic markets. Every day Hamura Plant produces around 500 units of SUVs and every day there are around 450 employees assembling 300 Hino Dutro units to be marketed to 15 countries. As for the Hino Dutro or Hino 300 Series, every 5.2 minutes a truck is ready to be delivered to various countries. And in one day and night, 300 units of vehicles can be produced.
KOGA PLANT IN JAPAN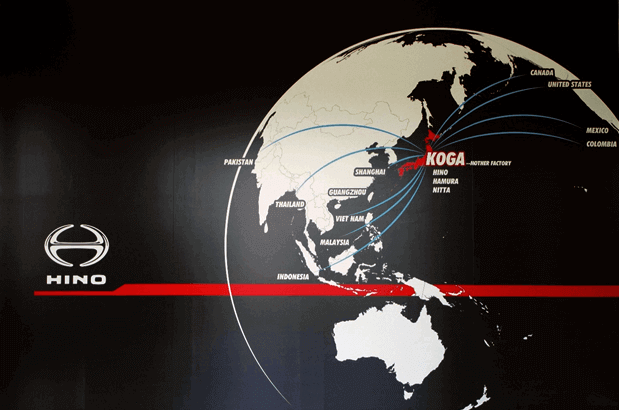 The Koga Plant is a mother plant that supports the global production supply system as a base for Hino's manufacturing and technology development. In order to establish the Hino brand globally as a manufacturer that customers will choose, and in order for Hino to grow globally and sustainably, it is essential that Hino continues to deliver great products and services in a timely manner. To that end, Hino provides products with low fuel consumption and low running costs that meet the needs of our customers based on QDR (quality, durability, reliability), which is Hino's strength, with short lead times. At the same time, Hino will work to strengthen Total Support in order to maximize the operability of those who use our vehicles. In order to deliver good products to our customers earlier, Hino is working to develop products meeting regional standards with a focus on modularization and global optimization of production and supply systems. By establishing new technologies and new innovative techniques at its Koga plant, which serves as a mother factory, and deploying these to Hino plants overseas, Hino aims to meet the diverse customer needs that characterize commercial vehicles, and with the shortest lead times.

HINO TIMELINE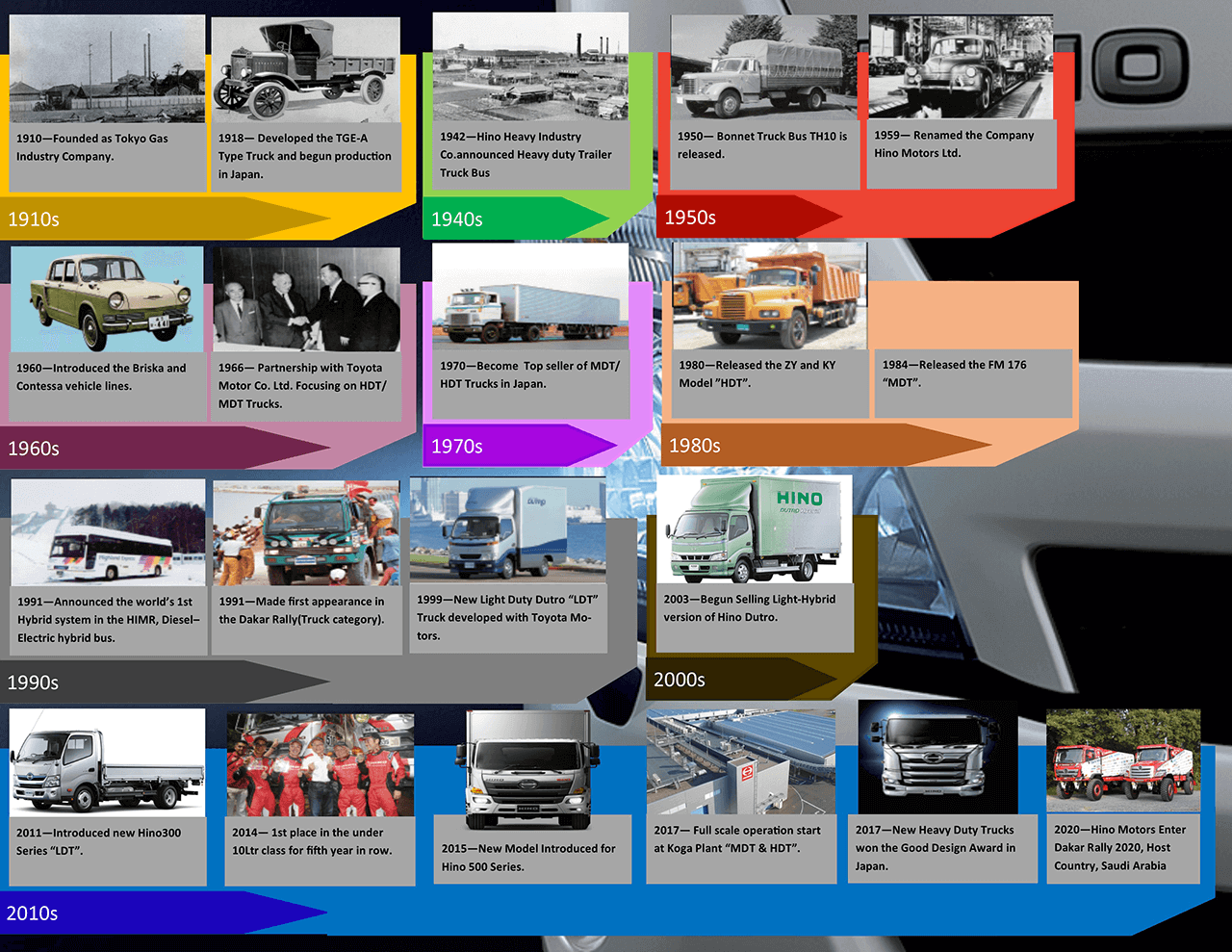 CORPORATE VIDEOS
Based in the UAE, Al-Futtaim Automotive Group is active across the full spectrum of automotive solutions and after-sales care. The Group is widely regarded as one of the key pioneers of the Middle Eastern automotive industry and in recent decades has branched into other regions, including Africa and South Asia.