Parts
HINO TAKES PRIDE IN BUILDING IT ALL TO LAST
So naturally, we apply the same rigorous policy with Hino genuine parts. Every single one is designed and engineered specifically for your truck. That's why it simply makes sound business sense to insist on only using Hino Genuine Parts for your truck and also fitted by trained Hino Technicians.
REASONS AND BENEFITS TO USE HINO GENUINE PARTS
Insist on the best and give your business a real advantage.
If you use Genuine Parts, than your driving will be trouble-free.
The 55,000 square meter Parts Distribution Center in UAE holds over 100,000 lines, with a sophisticated distribution system and built on bar coding technology, allowing three times rapid delivery during the working day.
The delivery of Hino Genuine Parts is well coordinated with our Parts Distribution Centre and we offer to our customers an Express Delivery service for Parts thus ensuring total customer satisfaction.
The full back up and replenishment support for parts availability and fast delivery is being provided by:
Hino Middle East Depot (Dubai, UAE) by road transportation
Hino Motors Limited Depot (Tokyo, Japan) by sea and air transport
We fully support the warranty condition for parts in UAE, provided from the manufacturer.
We provide a special range of HINO Smart Choice Parts. Pricing and availability can be requested from your nearest Hino branch in the UAE.

KEEP YOUR HINO AHEAD OF THE REST – GIVE YOUR BUSINESS THE REAL ADVANTAGE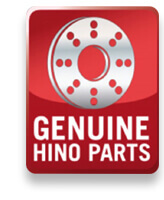 Now that you have your Hino truck, it's important to keep it all Hino by using only Hino Genuine Parts. This guarantees your truck will deliver maximum reliability backed by the security of Hino's Warranties should it ever be needed.
Insist on Genuine Hino Parts fitted by Hino trained and authorized technicians. They're engineered to exceed the toughest of criteria, so you can rest easy knowing that they'll keep your Hino vehicle in the best shape possible and minimize potential downtime.